Fixing dents , others say can't be repaired.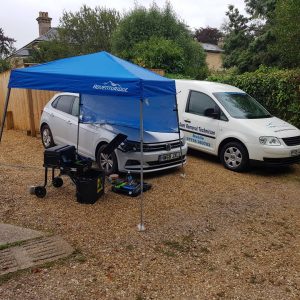 On a rainy day in October, I had the challenge of repairing this sharp dent on a brand new VW Polo. Caused by the wind, a door had swung and created this sharp dent on the swage line of the wing.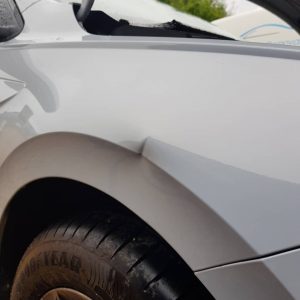 When I initially saw this dent, my thoughts were. It's very sharp and could have stretched the metal. Causing the panel to be damaged and not repairable by me. A potentially new wing or a bodyshop job meaning it will have filler and need to be resprayed. But I took it on knowing that the customer was hoping I could fix it.
Well after battling the rain and taking my time putting plenty of heat into the panel to ensure the paint didn't crack. This is how it turned out, one saved wing , 3 hours later and no paint needed.
The customer was very happy and left a 5* review on my google feedback page. She then proceeded to tell me that another technician had looked at it and said that they couldn't do it and it needed to be painted or replaced.